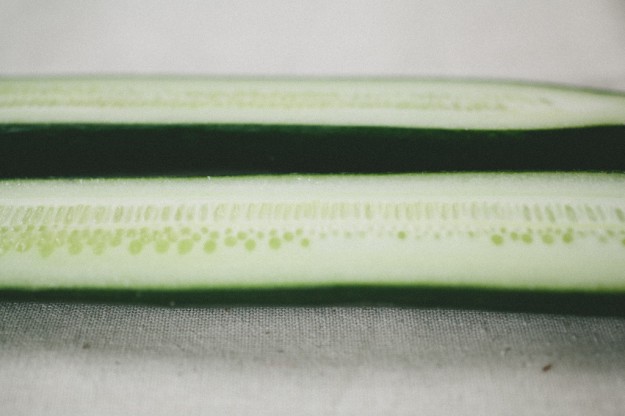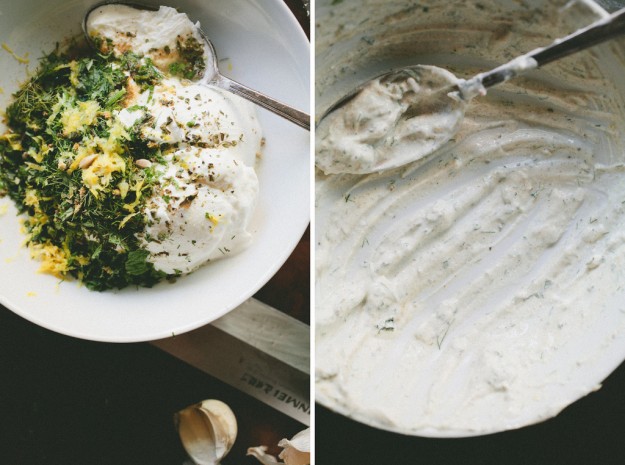 I checked the mailbox several times a day once Sara mentioned her book was in the mail. With every rumble of an engine that had the possibility of being a delivery truck I ran down the stairs hoping to greet the delivery man with book in hand. I was wrecked with jealousy when I saw the images of the book popping up in the hands of others when I had yet to receive mine. And then it came. I eagerly flipped through the pages with each more beautiful than the last. Instantly recipes were marked, pages were creased to hold their place and splatters dotted the page as they do with well-loved cookbooks.
While Sara and I have only met in person a few times over the course of one weekend, I consider her a dear friend. With regular pep talks over the phone or email, a dependable ear when I need to vent off some frustrated steam and the tear-filled eyes I had when seeing for the first time their new book, The Sprouted Kitchen
, Sara is the very definition of a friend.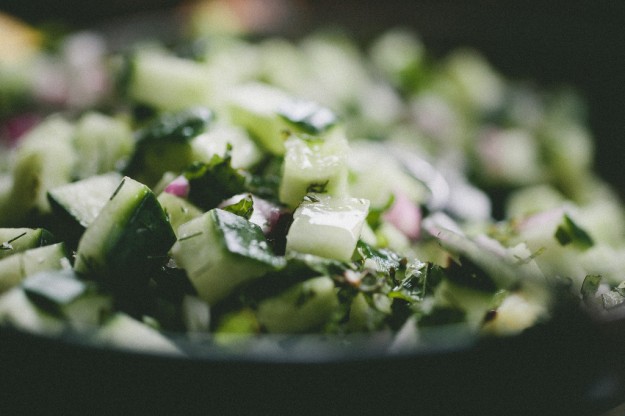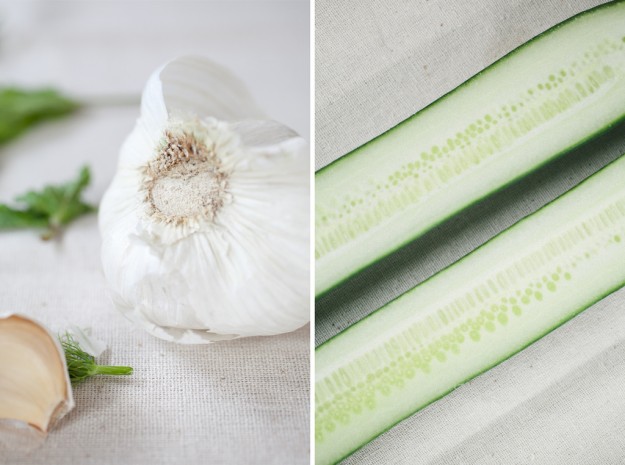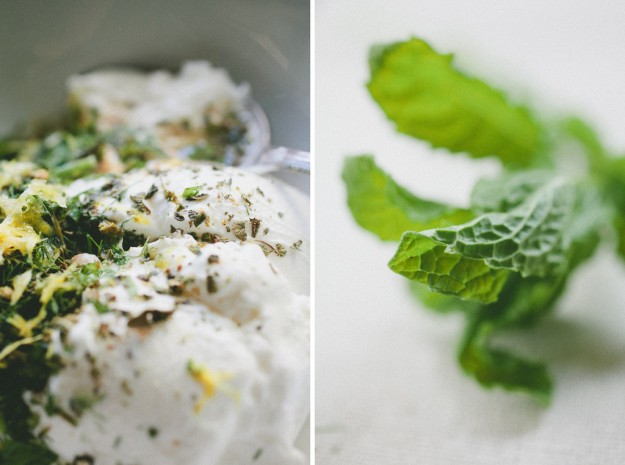 I couldn't be more proud for the stunning book Sara and Hugh have created. The book is a beautiful tribute to nutritious, whole food with inventive recipes that leave me inspired and rapidly creating a grocery list.
This recipe was one of many that I marked through my first scan of the book's pages. Regardless of the few ingredients that make up the list for this recipe the entire dish is loaded with fresh flavor and because of the few simple ingredients our dinner came together very quickly. My kids eagerly ripped at the tender and flavorful chicken continually asking for seconds, then thirds until nearly bones remained.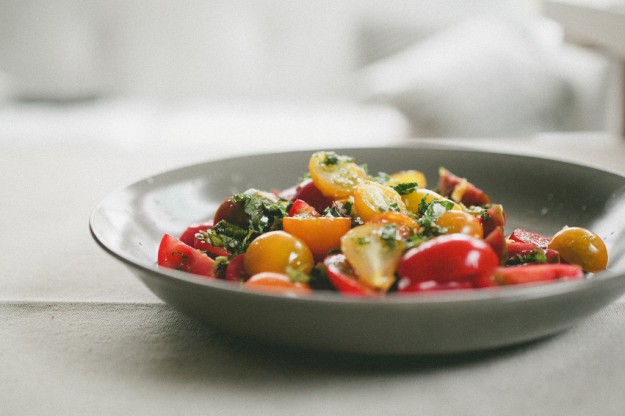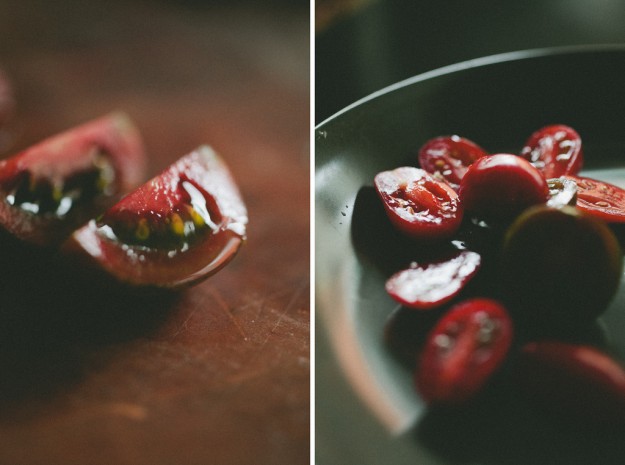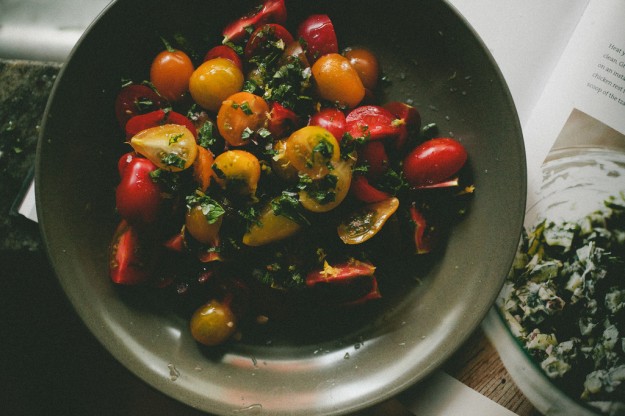 Thank you Sara and Hugh for continually inspiring us with incredible food, stunning images and your kindness that far extends beyond the screen.
Greek Grilled Chicken with Tzatziki
adapted from The Sprouted Kitchen: A Tastier Take on Whole Foods
Marinade
In the book Sara marinates and grills 4 boneless and skinless chicken breast. I have been on a whole-grilled chicken kick lately so I went that route. I made a bit more of the marinade and let it bathe in the herbal mix for several hours before grilling.
1 cup whole-milk Greek yogurt
1 lemon, juice and zest
2 teaspoons ground cumin
2 tablespoons coarsely chopped fresh dill
2 tablespoons coarsely chopped fresh mint leaves
3 garlic cloves, roughly chopped
1 teaspoon dried oregano
1 teaspoon sea salt
1 teaspoon freshly ground pepper
1 whole chicken, backbone removed in order to lay flat on the grill
Mix all the ingredients together and toss with the chicken. Let marinate for at least 15 minutes or for several hours in the fridge.
* If using chicken breasts Sara says to pound them out to an even ½" thickness.
Once marinated grill over medium-high heat until cooked through or the chicken reaches an internal temperature of 165* – 170*F. Let rest while you finish the tzatziki.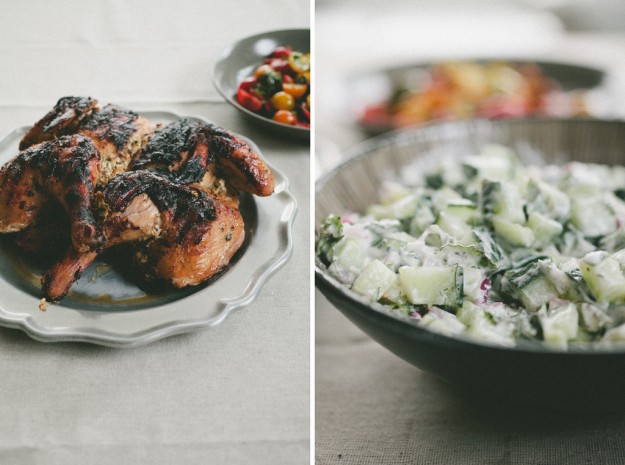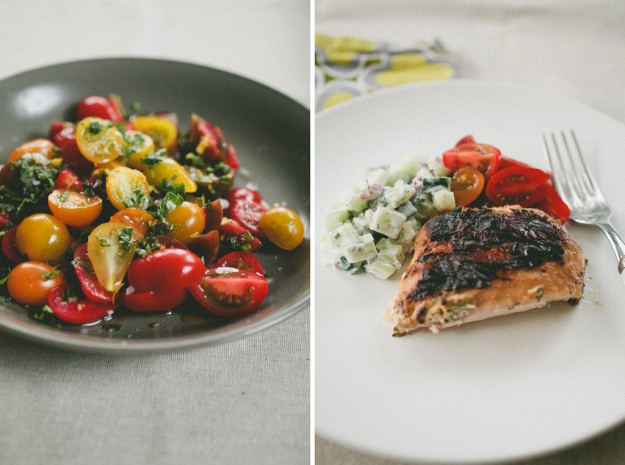 Tzatziki
Sara says to avoid adding the lemon juice, salt and yogurt too far before serving as the cucumbers will release quite a bit of juice. But if you are serving this to a crowd, feel free to combine the cucumber, onion, garlic and herbs then refrigerate until ready to mix in the rest and serve with the chicken. 
2 English cucumber
¼ red onion, finely diced
2 tablespoons chopped fresh mint
2 tablespoons chopped fresh dill
1 garlic clove, minced
⅓ cup whole-milk Greek yogurt
3 tablespoons freshly squeezed lemon juice
sea salt and pepper
To make the tzatziki, slice the cucumbers in half lengthwise. Use a small spoon to scoop out the seeds in the center. Slice each half lengthwise into four or five long sticks, then dice. You should have about 3 cups. In a mixing bowl, stir together the cucumbers, red onion, mint, dill, and garlic. Add the yogurt, lemon juice and ½ teaspoon of salt, and pepper to taste.
Serve a large scoop of the tzatziki along side the grilled chicken.
Tomato Salad with Mint
I had a couple pints of beautiful heirloom cherry tomatoes lying around so I made this quick salad using many of the same flavors as Sara. Had I had a bit of Feta in my fridge I would have added that as well.
2 – 3 cups halved cherry tomatoes
1 tablespoon roughly chopped fresh mint
1 teaspoon lemon zest
1 tablespoon fresh lemon juice
2 tablespoons olive oil
salt and pepper
Combine everything in a small bowl. Taste and adjust seasonings as desired.