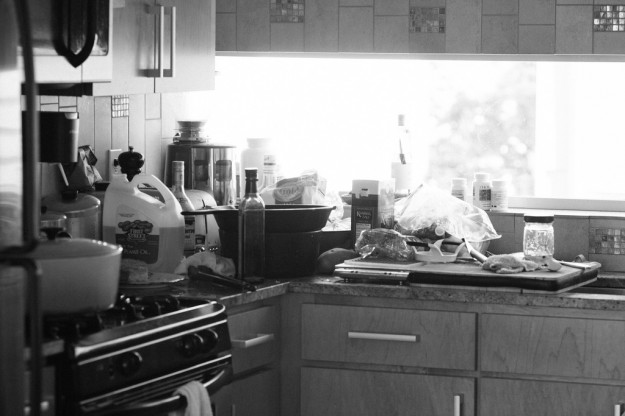 I resisted the urge to "style" my mess and actually my kitchen has seen much worse. Also, since I'm being very honest, I originally had two small images of my messy kitchen in this post but realized that that needed to be big. Breathe.
A friend encouraged me to take a picture of my messy kitchen for you all to see. We're no longer friends. (That's not true).
After the initial terror of the idea I started to see her point then finally came around to agree with her completely. There are a number of reasons why she was encouraging me to do this.
First of all she admitted to me her thoughts the first time she saw my kitchen.
"This is where she cooks everything?"
My kitchen has no pantry to store the assortment of flours and sugars I would like to keep. There isn't an expansive island to knead doughs and gingerly work cold butter into flour. There is very little counter space and half of the space there is is taken up with coffee equipment. Priorities.
This isn't me complaining. This is just how it is. Of course there are things I would like to have in a kitchen that I don't have currently but this space works and I am grateful for it.
So my friend thought you should all see the space as well. More specifically the space in the state of disarray in which it is often found. Dishes from lunch that happened hours ago still sitting. Items that should be tucked away into the overcrowded cupboards clutter the countertop and take up much of the coveted space needed for mixing, rolling and sanity. She wanted you all to see a bit more of my reality. She wants you to know that my kitchen is small, it's often a mess and also that the cake from my last post took three attempts one of which included me dribbling chocolate across my house because of a cake pan that had acquired holes which I hadn't noticed until after I poured the liquid into the pan.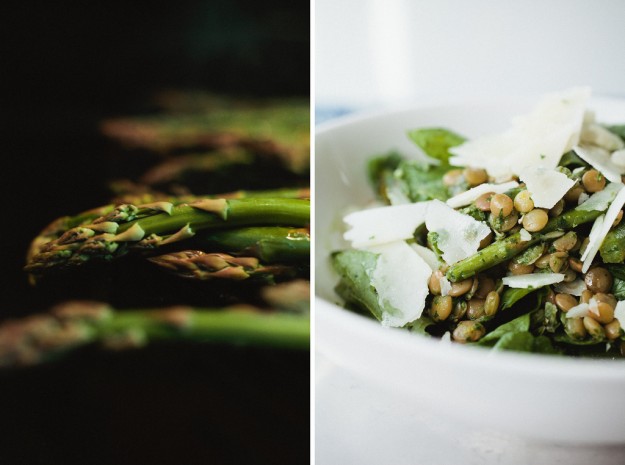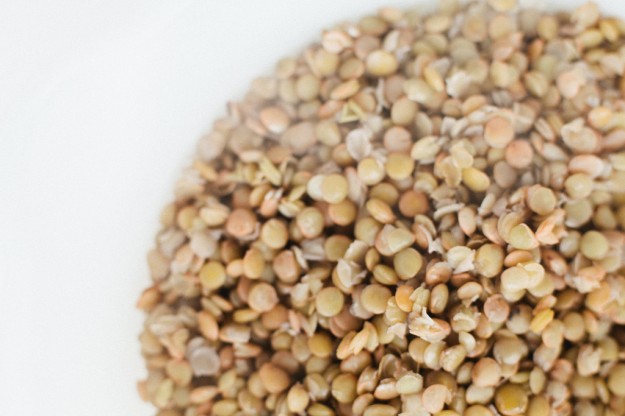 It's not just her. I want you to know this too. I don't put myself and my work onto this space to be elevated in any sort of way. My fear is that you would use any part of my life as you've imagined as an excuse to not create the recipes on the site or to create in general.
"She's got time." "She's got space." "She's got three perfectly behaved children who clean for her, massage her feet and actually are the ones making the recipes on the site."
I may have more time than some, I might also have less. I may have more space than some or I may have less. And well, the last one was just put there so I could laugh while I imagined that scene.
The truth is my day is always a series of choices. Right now I'm choosing not to clean the kitchen so that I can spend some time with you in this space. Also, I'm choosing to not do laundry when really now would be a perfect time because except for this fly buzzing around me, currently the house is quiet.
I've been asked numerous times, "how do you do it all?" I sort of love and hate that question. I love it for a brief moment because sometimes I can be grossly prideful. So the fact that I have somehow painted a picture of myself as having figured it all out seems pretty great. And then I think, that's horrible. That poor young mother or person in the cubicle working long days thinks that I eat chocolate and frolic in the garden with my well-behaved children all day long.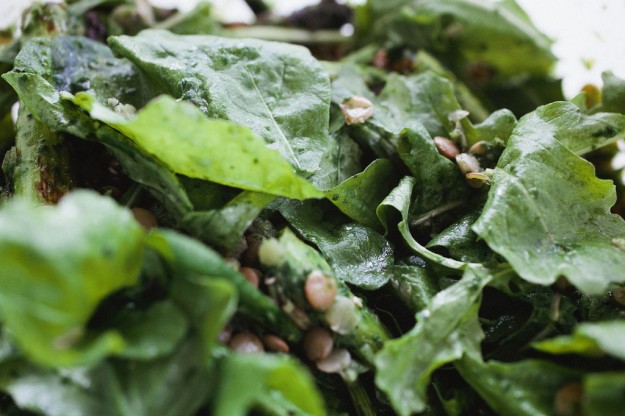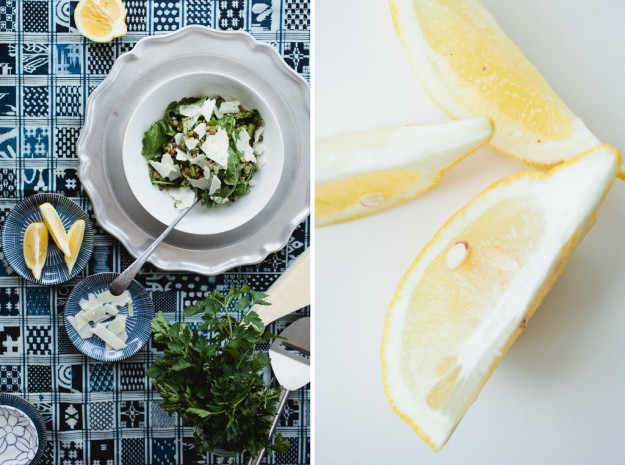 I have been that young mother mindlessly peering into other people's "lives". With unrealistic brush strokes I painted a picture of their lives as some sort of idyllic reality that I wanted rather than the messy life that I was living. Logically I know that everyone's reality includes some messes and really we don't want to see that all the time but every once in awhile I think it's refreshing to see the mess and humbling to share it.
That dim photo of items out of place – a chaotic mess of life and our reality is also there to fill in for the words that I can't find yet. This space has been silent for longer than I normally allow but I haven't been able to put myself here as my mind has been in the same state as my kitchen. Dark, cluttered and despondent.
The beauty of darkness is that it is often there where life's most valuable lessons tend to hide. Because of the lack of light the lessons are hard to spot, but when you start to see them, that's when joy becomes part of the suffering.
In the midst of this season of darkness I'm reminded of the power in vulnerability. A humbling lesson as I realized again and again that I can not battle this alone but what has come from that vulnerability is greater love, deeper respect and a refining of who I am.
When listening to Ruth Reichl speak last weekend at a conference I attended and spoke at, she was urging us to return to the home table and to invite people to join you there. Sharing a meal in a restaurant is a completely different experience than opening up your home to others. "When you invite someone into your home you become vulnerable." She said. "You are saying this is who I am."
She fears we've lost that kind of intimacy and we are not the better for it.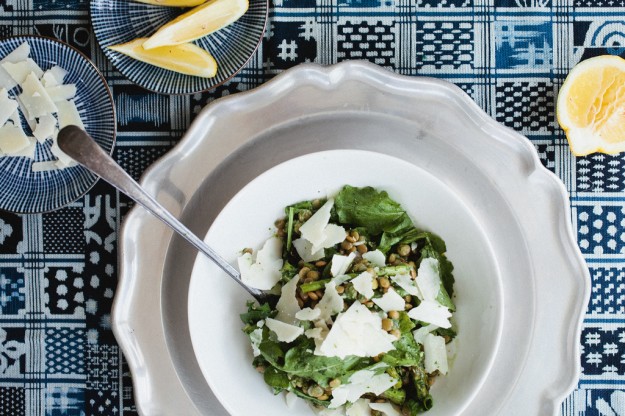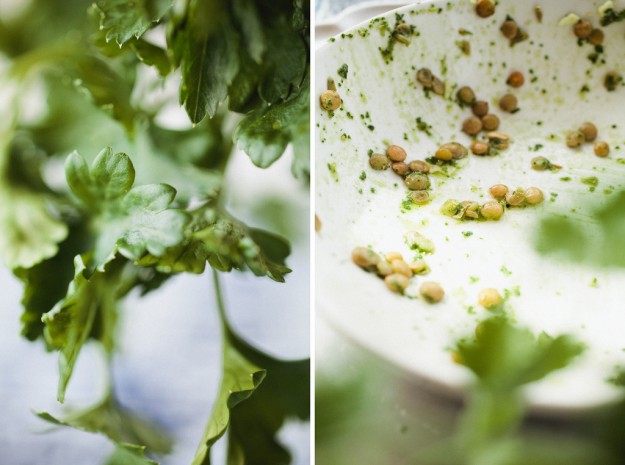 As with any sort of vulnerability, when I think to invite others into my space the wave of excuses hit with great force. "My home is too small. They'll be uncomfortable. The kids will be too loud. I don't have matching dishes. They'll see the stains, the mess, the clutter.
They'll know me in a way I'm not sure I'm ready to be known."
It's an exhausting work trying to hide oneself. A work that I don't care to excel in. For the sake of greater love and for the hope of guiding someone else in their darkness I become vulnerable. It's an act of faith. It's removing the band-aid while the wound is still fresh trusting that the air will help in the process of healing.
Green lentils with arugula and asparagus
inspired from Plenty: Vibrant Recipes from London's Ottolenghi

serves 4
The past several Sundays have found me at the Farmer's Market with the sun beaming on my face and my smile radiating back. The offerings are still a bit slim but each week I faithfully return I am rewarded with a bit more abundance. Arugula and asparagus are always a must, beyond that it's what else I can fit in my hands while still be able to manage the three littles. This recipe highlights the season so beautifully. It's quick and easy and a perfect option to serve when opening up your home and sharing a meal.
1 cup green lentils
4 cups arugula
½ cup parsley
½ cup olive oil
1 garlic clove, peeled
1 Tb red wine vinegar
1 teaspoon lemon zest
1 bunch asparagus
salt and pepper
pecorino (or parmesan)
lemon wedges
Wash the lentils then simmer in a saucepan covered with plenty of water. Simmer until tender but not mushy – about 15 minutes. Drain any remaining water after cooking.
While the lentils cook put half the arugula, the parsley, oil, garlic, vinegar, lemon zest and a hearty pinch of salt and pepper in the bowl of a food processor or blender. Process until smooth. Taste and add more salt if needed or a squeeze of lemon.
Add this pesto to the warm lentils then set aside. Taste again and add salt if needed, most likely it will need it.
Roast or grill the asparagus until charred in places and cooked through. Cut into 1-2" inch pieces. (I cut off the woody part of the asparagus then toss with olive oil, salt and pepper then place on a hot grill pan for about 2-3 minutes per side).
Toss the asparagus and remaining arugula with the lentils. Top with plenty of shaved pecorino and serve with lemon wedges.
You can serve this dish warm or room temperature. A perfect, healthy spring dinner, I'd say.