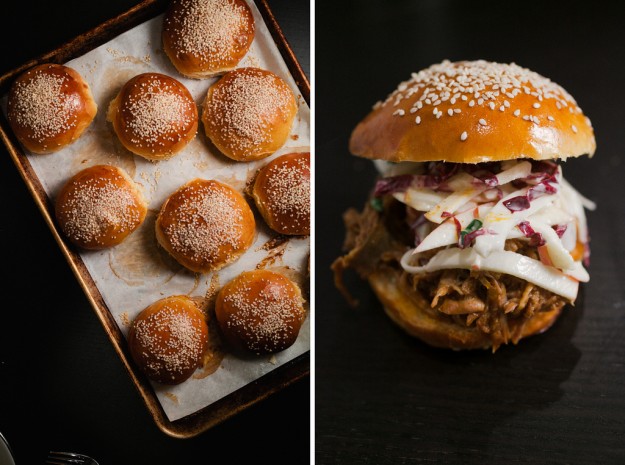 If I could to speak to myself on the day of my wedding over eight years ago, this is what I would say…
I understand you're a bit scared. You're young and you are about to make a decision that will affect the rest of your life. You think it's the right choice, you think you love him but what really is love? I know that's what you are thinking because I am you.
For months leading up to the wedding day you've been asking everyone who would listen to help you understand what love really is. Sure he gives you butterflies and you can't imagine not spending every day with this man. You've lost countless hours of sleep just clinging to his presence and not wanting to waste a moment with him. But is that really love? Is that enough to sustain a marriage that will survive moves across state lines, financial stress, young children, loss, and much more that we have yet to experience?
In case you do read this you should know that you made the right decision. But you didn't really know love. The love you felt on the day you stared at him down the aisle, anxiously awaiting that glimmer in his eyes as he saw you for the first time in your wedding dress and the last time you weren't his wife, that love was just the start.
At the time you thought love was how he made you feel. You questioned love the moment the butterflies didn't flutter as rapidly as you thought they should. You resented him for shining light on parts of you that were selfish and gross. He didn't complete you in the way you expected him to and surprisingly he didn't completely understand you from the moment you both said, "I do."
Love isn't simply about how he makes you feel. I know that now. Love is a choice and love is action.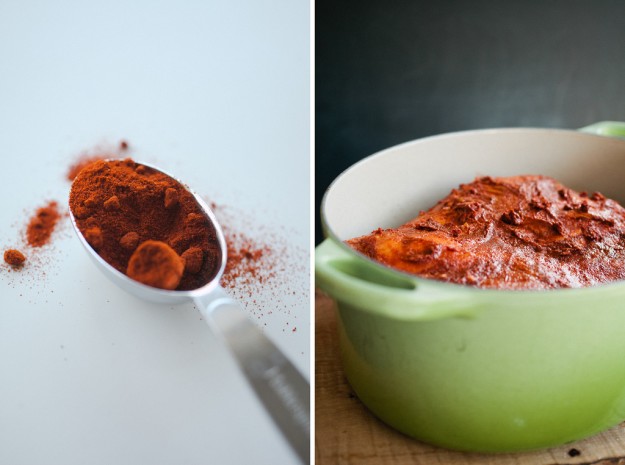 Now you realize that love is him warming up the espresso machine for you in the morning so it's ready when you wander sleepily down the stairs. Love is how he saves the last scoop of ice cream for you, every time. Love is the way he wrestles with your sons (you have two and I can't wait for you to meet them) after a long day of work. Love is the way he dances with your daughter (she'll make you melt with each glance into her big brown eyes).
You slowly start to understand that when your dad told you, "Love is a choice", he wasn't being as unromantic as you first thought. You'll realize that each day you have a choice. You can either choose to love Gabe and allow your feelings and actions reflect that or you can choose to allow the daily difficulties and his imperfections (yes, I know you can't see it now, but he's not perfect – and neither are you) to become a disease in the marriage.
Some days are better than others but over time you'll realize that praying for and encouraging him is more useful than resenting him. You'll start to see all the things he does for you and your family rather than focusing on what he doesn't do. And you'll realize that on the day you married him you really had no idea what love was and that eight years later you love him in way that you never thought possible.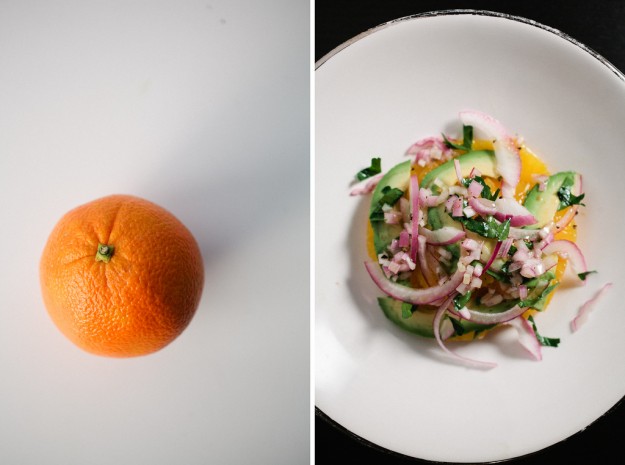 It's going to be hard. You'll find out things about yourself that you really wish could have stayed hidden and yet, through it all you slowly become a better person. One that really knows and understands love – at least I hope that's what happens, I'm not quite there yet.
What I do know is that no matter how tired you are, no matter how much you would just rather curl up on the couch and tune out the noise of the day, every once in awhile you need to put the kids to bed a bit earlier and ask your husband out on a date, even if that date happens at home.
You'll plan the meal with great excitement and get inspired staring at the vibrant produce at the store while Ivy (that's your daughter) tries her best to pull everything off the shelves and into the cart. You'll spend the next 7 hours, on and off, preparing for a meal that you and your husband will devour in 10 minutes. He'll appreciate every minute of your effort and you'll love every chop of an onion and knead of the dough. You remind yourself of this moment and how many times before you've learned the same lesson – choosing him over your own selfish desires is what love is all about.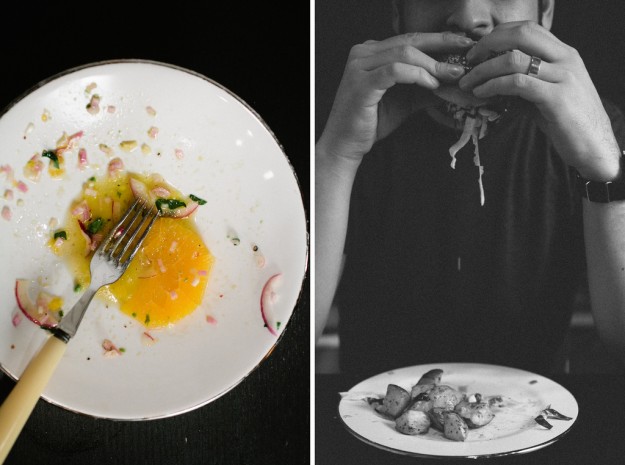 Menu
orange and avocado salad with shallot vinaigrette
pulled pork with a fennel, apple and raddicchio slaw on a sesame bun
piment d'espelette roasted new potatoes
caramel walnut tart with whipped creme fraiche
Plan
To eat around 8:00 pm the pork should be in by 1:30pm at the latest. So plan to put the rub on the pork that morning or the night before.
The tart and both dressings can be made the day before.
I pulled the pork out of the oven for close to an hour and set it over very low heat on the stove top while I roasted the potatoes and baked the buns.
When the pork was nearly finished we made the orange salad and enjoyed that as our first course. As the pork cooled, I finished up the cole slaw.
All that and it was gone in under 10 minutes but we've been eating incredible left overs for days.
Orange Salad with Avocado and Shallot Vinaigrette
1 Tbl chopped shallot
3 Tbl extra-virgin olive oil
1 Tbl fresh lemon juice
¼ teaspon salt
fresh pepper, to taste
2 large oranges
1 avocado
2 Tbl thinly sliced red onion (optional)
1 Tbl chopped Italian parsley
Combine the first five ingredients in a small bowl. Whisk together, taste, and adjust salt and pepper as needed.
Cut the peel away from the orange then slice in ¼" rounds. Arrange on two separate plates, top with sliced avocado and red onion, if using. Spoon a bit of the dressing on each plate. Top with fresh Italian parsley and serve immediately.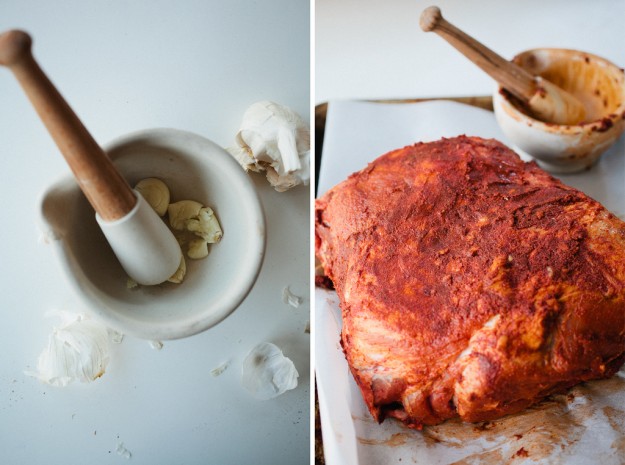 Pulled Pork Sandwiches with Fennel, Apple, and Radicchio Slaw
Pork Rub
for a 5-7 pound pork shoulder
3 garlic cloves, peeled
¼ teaspoon cayenne
3 Tbl paprika
3 Tbl kosher salt
1 Tbl brown sugar
2 teaspoons ground cumin
3 Tbl yellow mustard
In a morter and pestle or a food processor, mince the garlic then add the spices and salt. Stir in the mustard. Rub this over the pork and let sit for at least 1 hour or overnight in the fridge.
After the pork has bathed in the rub place in a large roasting pan and roast at 300*F for about 6 hours or until falling away from the bone.
Barbeque Sauce
1 cup apple cider vinegar
2 Tbl yellow mustard
½ cup ketchup
1 teaspoon cayenne
1 teaspoon kosher salt
½ teaspoon fresh black pepper
3 garlic cloves
1 small shallot, chopped
a few drops of natural hickory smoke
Combine all the ingredients in a medium sauce pan and simmer for 10 minutes. Set aside.
Once pork has finished roasting remove from the pan and let rest for at least 10 minutes. Add ⅔ of the bar-b-que sauce to the juices left in the roasting pan and scrape up any crusted on bits on the bottom of the pan. Simmer gently while the pork rests.
Using two forks and possibly your hands too, pull apart the pork into bite-size shreds.
Add the pulled pork into the sauce. Taste and add more sauce if you think it needs it or reserve remaining bar-b-que sauce to serve with the sandwiches.
On a freshly sliced sesame bun add a good amount of pork then top with the fennel slaw. Enjoy immediately.
Fennel, Apple and Radicchio Slaw
½ cup creme fraiche
2 Tbl mayonnaise
2 Tbl olive oil
1 Tbl apple cider vinegar
½ teaspoon kosher salt
1 Tbl lemon juice
3 green onions, sliced
1 fennel bulb, julienned
1 apple, julienned
1 cup thinly sliced radicchio
In a small bowl combine the first six ingredients. Set aside.
In a medium bowl add the fennel, apple, green onions, and radicchio. Toss with about ¼ cup dressing to start. Taste then add more as needed.
Can be made up to an hour in advance. It keeps for a day – perfect for leftovers – but doesn't look nearly as fresh and starts to droop a bit.
The dressing could be made up to 3 days in advance.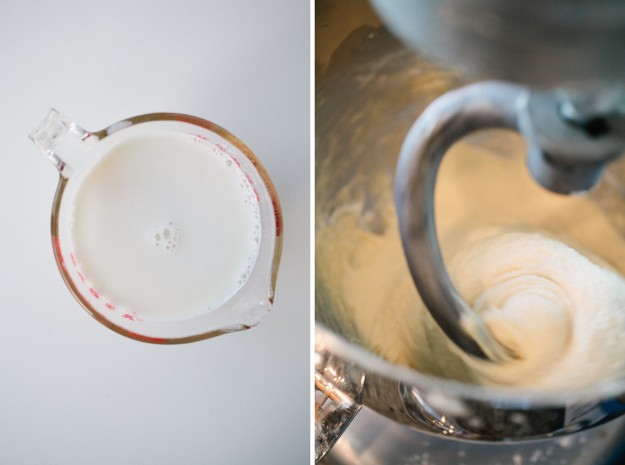 Sesame Seed Buns
makes 9-12 buns
The point of a date night is not to exhaust yourself before the date actually happens, so I realize that after roasting a pork shoulder for 7 hours many may feel that making your own buns is just asking too much. I'm okay with that. I am, however, a bit crazy and can't get enough of playing in the kitchen, especially when doughs are involved. So I've included the recipe for those who are like me or if there comes a day when you do decide to make your own buns.
2 teaspoons yeast
1 ⅓ cups warm milk
2 Tbl honey
4 cups all-purpose flour
2 teaspoons kosher salt
1 egg, lightly beaten
4 Tbl (1/2 stick) butter, soft
2 Tbl sesame seeds
1 egg, lightly beaten (egg wash)
In the bowl of a stand mixer, whisk together the yeast, milk and honey. Let stand for 10 minutes as which point you should see lots of bubbles and some definite growth happening.
Add flour, salt, and egg and mix with the dough hook to combine. While the mixer is running on medium-low add the soft butter 1 tablespoon at a time. Scrape down the bowl then continue to mix for 8-10 minutes.
Cover with a dish towel or plastic wrap and let double, about two hours.
Roll the dough into tight balls estimating that you will get between 9-12 buns. This is just a bit under ½ cup of dough per bun.
Place on a parchment lined sheet tray (you may need two if you don't want them to touch at all) then cover with plastic wrap and let double again, about 1 ½ hours.
When the buns are just about doubled, pre-heat the oven to 400*. Brush the buns with the additional egg and top with sesame seeds.
Bake for about 20 – 25 minutes, until deep golden on top and bottom.
Let cool on a wire rack to prevent steaming.
Piment d'espelette Roasted Potatoes
It's worth the online order or visit to a specialty store to gather this ingredient. Similar to paprika without the intense smoke and a stronger, fresh heat in place of it. A dear friend brought this back from France and I can't help but put it in nearly everything.
If you can't find it you could use paprika or simply do a perfectly delicious garlic roasted potato.
1 ½ – 2 pounds new potatoes, cut in rough ½" pieces
1 ½ Tbl extra-virgin olive oil
1 ½ teaspoons piment d'espelette
¾ – 1 teaspoon kosher salt
Pre-heat your oven to 400*F. Combine all ingredients and roast on a parchment lined sheet tray making sure the potatoes are not too crowded or piled on top of one another. Roast until interior is tender and the exterior edges are crispy and deep golden in places, about 40-50 minutes.
–