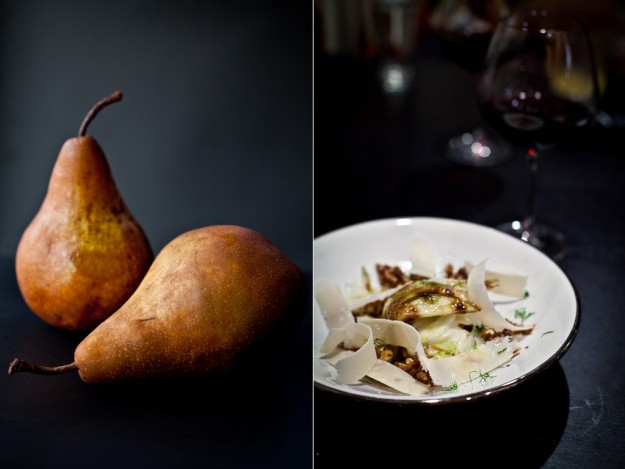 An in home date is not equal to that of one usually including fancy shoes (or shoes at all) and red lipstick. There is something about leaving the house and all the responsibilities tied to it that frees you up to talk about the things in life that extend a bit deeper than normal dinner time conversation when three children under the age of 5 are present.
What an in home date is good for is providing opportunities for connection (and great food) when leaving the house isn't an option. It allows for more dates without making a huge dent in the family budget and if you have children it's great for them to see you making an effort to continue to build the relationship with your spouse.
Gabe and I have several in home dates under our belts and there are a few things I've learned that help distinguish a date evening from one in which flying food and fart jokes are present (not welcomed, but they're there).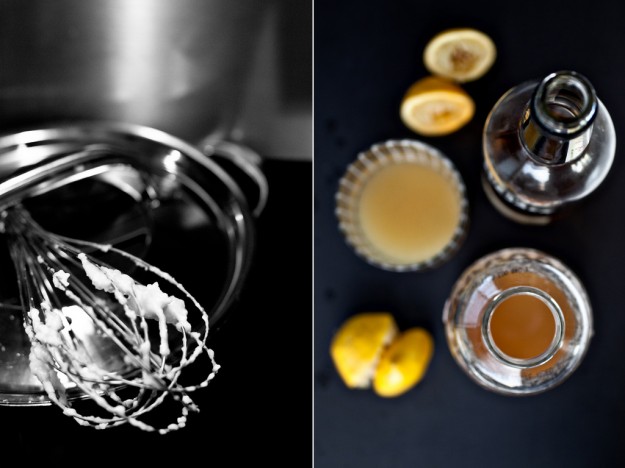 First of all I like to start the meal off with a cocktail. An ordinary dinner in our house does not begin this way instantly reminding us that this meal is different. Also, I find that cooking becomes more of a gift and less of an obligation when a cocktail is in hand. The lingering voices of children fighting sleep seem somehow muted when sipping on a fine beverage.
Our date night food is different. Most days my meal planning begins around 4:45 when my kids are ready for dinner at 5:00. Our everyday food is simple, quick, healthful, and easy. When date nights are approaching you'll find me amid a pile of cookbooks eagerly anticipating a dish, ingredient or flavor that will suddenly inspire our meal. Creating the menu is the first step in distinguishing this evening apart from others. I choose dishes that comfort while still giving us the sense that this is special. The meal is usually three courses (four if you include the cocktail as a substantial course).
With the menu planned and cocktail in hand I begin to cook. I'm not rushed or dealing with crying children tugging at my apron strings. I enjoy the process. My husband sits nearby ready to help but also keeps his distance knowing that I tend to be a bit controlling in the kitchen and often prefer to do it alone. He appreciates his drink and watching his wife in her element. I toast the spices, stir the sauce, and plate the salad pulling him into the process by tasting the flavors that excite me almost to tears.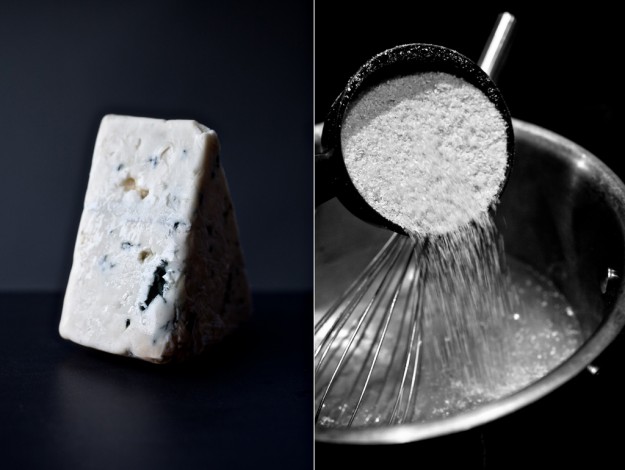 The meat rests while we sit down to enjoy a light salad. Voices are faint but can still be heard from upstairs. By the time we are ready for the main course the house is quiet and for a moment we feel alone, as if we have reserved a restaurant to ourselves.
With a sharp knife and an eager appetite I slice through the perfectly cooked pork tenderloin. It's juices flow into the Gorgonzola polenta only adding to the complexity. Conversation nearly ceases while we savor not only the meal but also the silence.
As the roasted grapes, lightly floral of rosemary, are served over store-bought (getting a little help from the store is perfectly acceptable and encouraged in order to make date night meal prep stress-free) ice cream we've settled into each other's company feeling the freedom to steer conversation from the logistical to the variety in which it leaves us reminded of why we fell in love.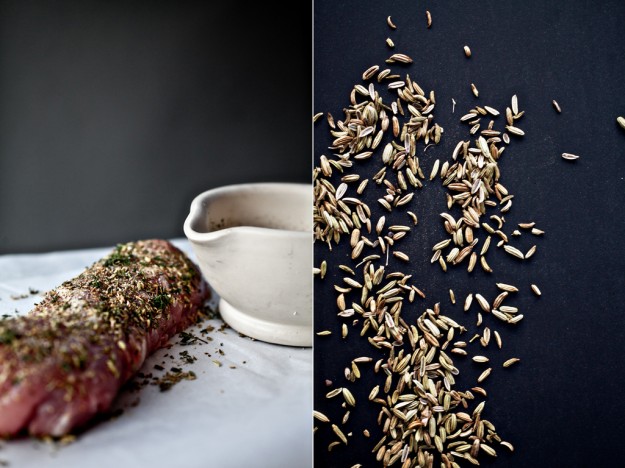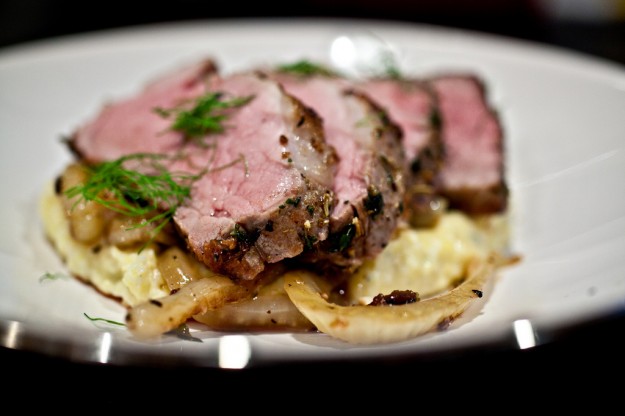 The kitchen remains mostly a mess as the priority is connecting not cleaning. Our laptops are used only if watching a movie is in order and our phones are only welcomed if we are photographing the meal. It's us, good food and great company.
Even when the day exhausts us to the point where even carrying on a conversation feels a chore, we continue to date at home as we realize the importance of building that habit. The reality is there are days when cooking a three coursed meal after a long day with the kids feels more like torture than delight. In those times there are a few options. 1. We've had date nights with just a cocktail and dessert course. Equally lovely and much less work. 2. Take-out is always an option, just be sure to include some element that signifies this night set apart. 3. Pour a glass of wine and power through. I find that once I start cooking the process provides me with more energy and joy than when I began.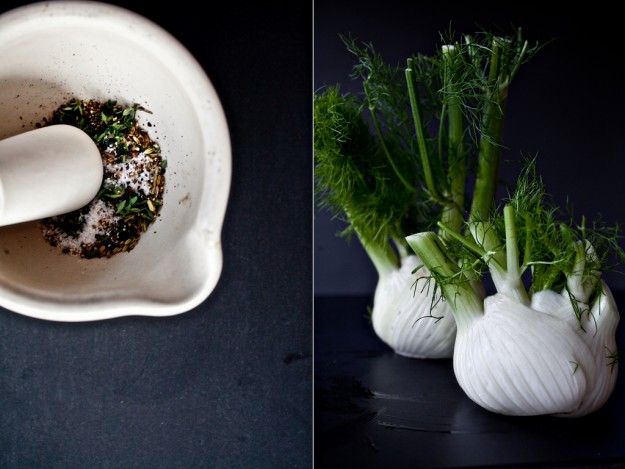 The most important thing about date nights is to do them. I feel completely inadequate in saying this as we tend to let almost everything else in life take more precedence than dating one another. But what I can say is that when we are faithful in this act our marriage is rewarded. We end the evening feeling more connected, a stronger team, and more in love. In this season in life, with young children, it's so easy to set our marriage aside. The kids whine much louder than Gabe does so it's easy to give them everything I have leaving nothing for my husband. I've seen the destruction in this and I know that one of the most important things I can teach my children is what a healthy marriage looks like. So we date and we are much better for it.
Applejack Spritzer
adapted from Gourmet 1985
Makes 1
This is a simple cocktail, light and faintly fizzy. Perfect for when you want something with cool weather flavors while still being pleasantly refreshing.
2 shots apple juice
1 shot applejack
1 tbl lemon juice
splash soda water
ice
In an highball mix the juice, apple jack and lemon juice. Add ice then soda water to top. Garnish with a slice of lemon if you wish.
Pear with Fennel, Walnuts, Parmesan and Balsamic
adapted from The Zuni Cafe Cookbook
Serves 2
With little more information than the name of this recipe you can make this salad. What's magical is in the unique combination of flavors. It seems as if there might be too much happening on one plate but I assure you that each ingredient needs the other in order to make this salad sing.
1 bosc pear
1/2 fennel bulb
Parmesan
aged balsamic
toasted walnuts
Using a mandolin or a very sharp knife slice the pear and fennel very thin. Arrange on two plates then finish with shaved Parmesan, a drizzle of balsamic and a few toasted walnut halves.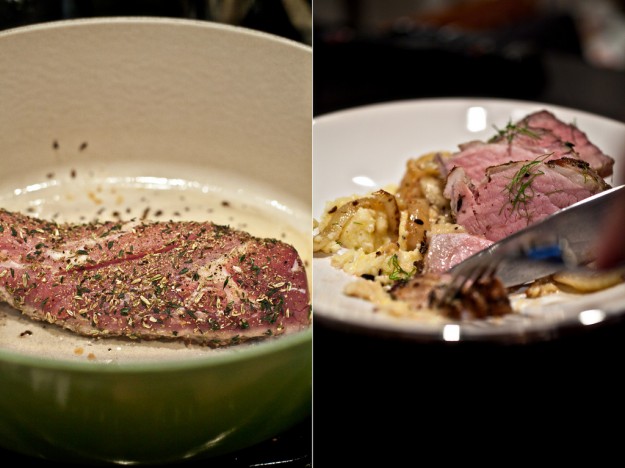 Pork Tenderloin with Fennel
adapted from Molly Stevens',All About Roasting
Serves 3-4
1 lb pork tenderloin
2 tsp fennel seeds, toasted
3 tsp fresh thyme, chopped
1 tsp salt
¼ tsp black pepper
2 Tbl olive oil
2 fennel bulbs, thinly sliced
2 garlic cloves, minced
½ cup white wine
2 Tbl fennel fronds, chopped
1 Tbl butter, room temperature
Combine the fennel, thyme, salt and pepper in a small bowl. Pat the pork dry then rub on seasoning mixture. This can be done 4-24 hours in advance if covered and refrigerated. Remove the pork 30 minutes prior to roasting to allow it to come to room temperature. Pre-heat the oven to 350*F. In a large oven-proof pan or skillet, heat the oil and the pan until very hot. Carefully add the pork making sure you hear plenty of sizzle as it hits the hot pan. Do not touch for two minutes so that a nice deep crust forms. Sear all sides of the tenderloin, a total of 6-8 minutes. Transfer the pork to a plate.
On medium heat, add the fennel to the pan. Season with salt and pepper and saute until brown in spots, about 5 minutes. Add the garlic and saute briefly. It will appear dry. Add the wine then cover and lower the heat to medium-low. Simmer until the fennel is crisp-tender, about 12 minutes. Remove the pan from the heat and add the pork back to the pan. Smear the butter over the tenderloin then return to the oven to roast until the internal temperature in the thickest part is 140-145*F, about 18 minutes. Allow the meat to rest for 5-8 minutes then slice ½ to 1 inch thick slices. Taste the fennel for seasoning.  Serve the pork over the Gorgonzola polenta then top with roasted fennel and fresh fennel fronds. Drizzle with any remaining juices.
Gorganzola Polenta
method adapted from The Zuni Cafe Cookbook
Serves 4, generously
Judy Rogers, the author of The Zuni Cafe Cookbook, writes with such authority that I can't help but want to do everything just as she says. And her implicit instructions on cooking polenta was no exception. The resulting dish came out perfectly creamy and with no whisper of a lump. Judy recommends letting the polenta rest in a bain marie for 30 minutes prior to eating. I would have done that but when it comes to dirtying more dishes – that's where I draw the line. I let mine rest for 15-20 minutes and I couldn't have been happier with the results.
As for the Gorgonzola – just do it. Tomorrow can be a healthy eating day.
5 cups water
1 cup polenta
½ tsp salt
2 tbl butter
4 oz gorgonzola
Bring the water to a simmer in a medium saucepan. Whisk in the polenta then continue to stir until the water returns to a simmer. Reduce the heat until the polenta only bubbles occasionally. Cook uncovered for about 1 hour, stirring as needed. The polenta will be thick but still fluid, if too thick add a bit of water. Add salt, butter, and Gorgonzola. Remove from the heat, cover and let rest at least 15 minutes.
Roasted Grapes
adapted from Molly Stevens' All About Roasting
It's as if the grapes magically create their own jam when you roast them. I recommend serving these over caramel ice cream or vanilla with caramel sauce. If you manage to save a few for breakfast I'm sure your oatmeal would thank you.
1 lb red, seedless grapes
1 ½ Tbl olive oil
3 sprigs fresh rosemary
On a parchment lined sheet tray add the grapes and rosemary. Drizzle the oil on and stir to coat.Roast in a 300*F oven for 1-2 hours depending on desired roastedness.