Intro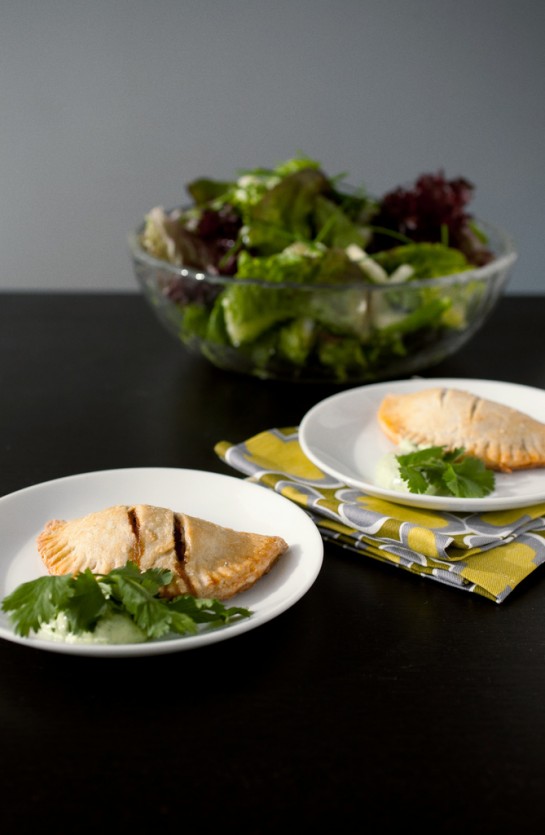 He wouldn't touch his food, which, let's be honest, is not out of the ordinary. Moans of disapproval filled their mouths instead of the food. A constant stream of requests were shot in my direction in a tone that is not unlike nails scraping down a chalkboard. There was bartering and attempts at making a deal, "If I eat this may I be excused?"
I was there. Mere inches separated me from the whiners yet I heard nothing. Closing my eyes I took it all in. The tender crust burst into flakes that melted the moment they hit the warmth of my mouth. The subtle sweetness of butter transitioned into a flurry of spices and a mellow familiar smokiness from deeply caramelized bacon. Jalapeno provided a new layer of heat which begged to be be soothed with green-tinged cream sauce floral from cilantro.
I returned back to the chaos of the table only when my plate was empty and I reached for another.
Although Baron helped me roll out the dough and fill our empanadas you would have thought I was punishing him by requesting that he merely try a bite. Roman also refused.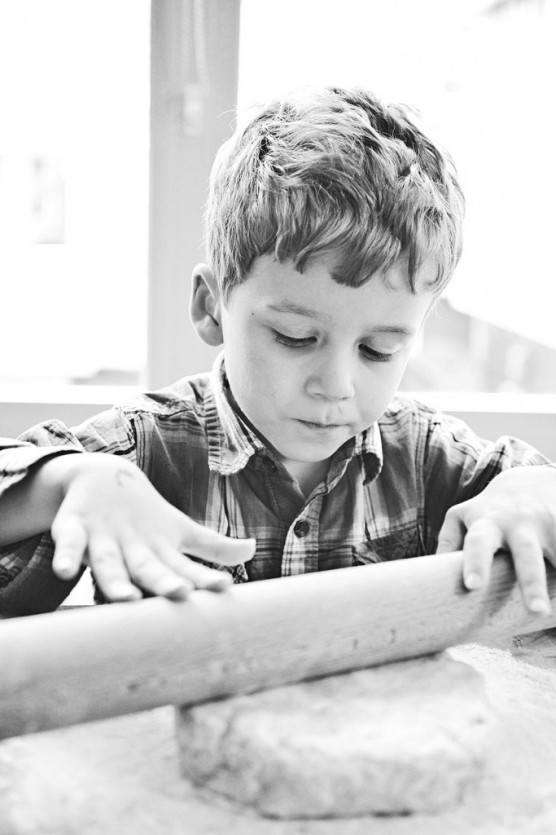 Around our table the food is not forced. Primarily because I don't have the patience to sit there for hours fighting each bite into their mouths. I want to try and retain the joy that food is for me rather than have it become a continual source of contention in our family. Our one food rule: You must try everything once. This goes for mama and daddy too.
My hope, and I have confidence that it will be, is that as my kidlets grow older they will enjoy and appreciate food. They may not ever have the same intense passion for food as their mama, who thinks about the next meal while still finishing bites during the current one, but at the very least they will have a wealth of joy-filled memories that include us in the kitchen. Those memories are painted with the smell of roasting spices, the feeling of soft dough squeezing through their fingers, and the sound of the oven timer signaling the call to the table.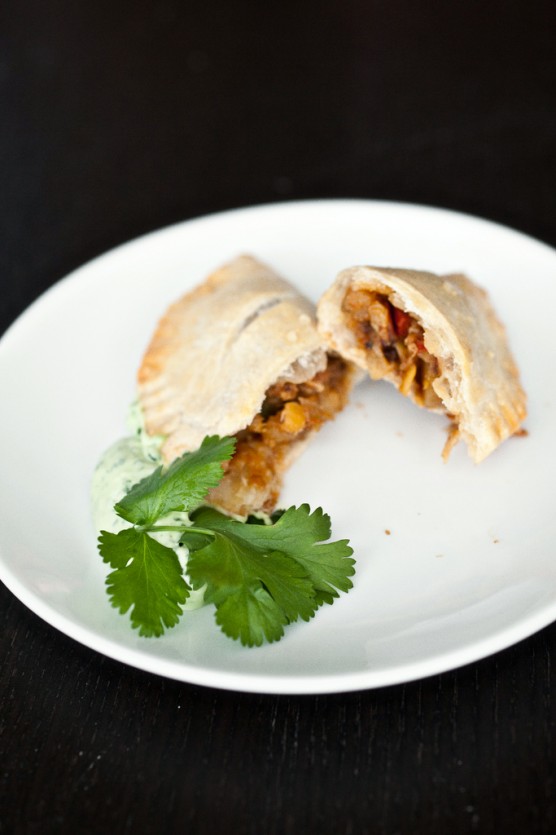 Until those days of a more peaceful mealtime I may occasionally find myself so pleased with dinner that I slip into a my own world where the flavors of cumin and coriander sing louder than the moans from the kids and I manage to tune out the unrelenting requests for the sake of one more bite into a perfectly formed crust. In fact, I hope I become a frequent visitor.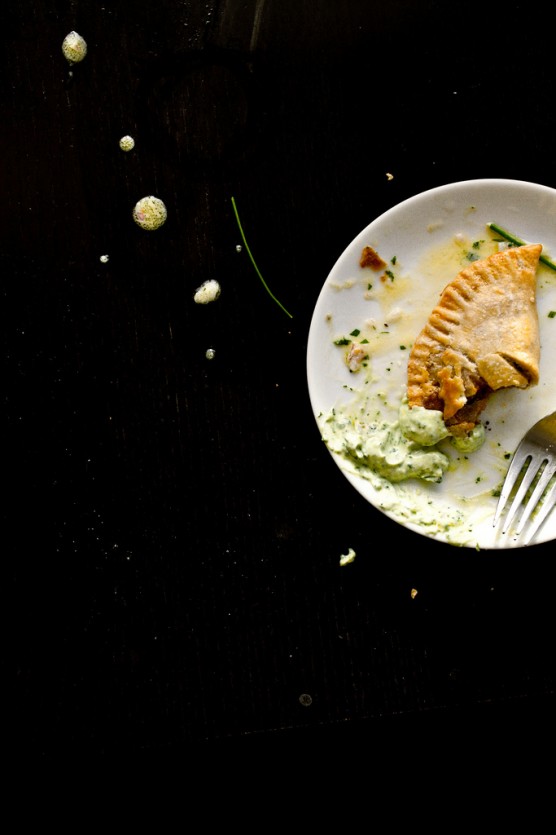 continue for recipes…

Empanada Dough
2 ¼ cup all-purpose flour
1 ½ teaspoon kosher salt
4 oz (1 stick) butter, cold
1 egg
⅓ cup ice water
1 tablespoon vinegar (light in flavor such as cider or champagne)
In the bowl of a food processor combine the flour and salt. Pulse to combine. Cut the butter into ½ inch cubes and scatter over the flour. Pulse about 5-7 times to just start to break up the butter. In a small bowl mix the egg, water, vinegar and gently stream into the food prosessor while pulsing. Stop when the dough is still a bit crumbly. Dump out the dough onto a sheet of plastic wrap and use your hands to gently coax the dough into a round. Cover the dough with the plastic wrap and chill for about an hour.
While the dough is chilling prepare the filling.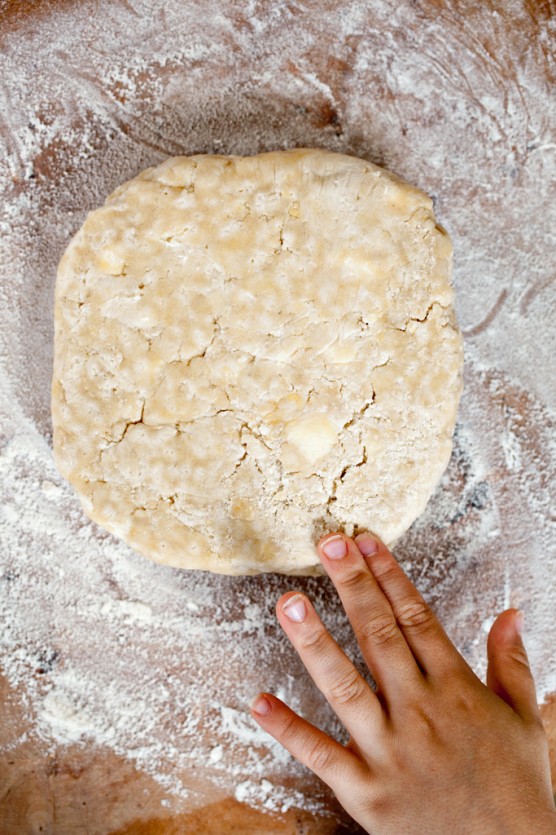 Empanada Filling
3 strips bacon, cut in ¼ inch pieces
½ cup onion, diced (about 1 small – medium onion)
1 red pepper, diced
2 teaspoons cumin
¼ teaspoon cayenne
½ teaspoon coriander
1 teaspoon chili powder
1 medium potato, cut in ½ inch cubes
1 medium shallot, finely diced
2 large garlic cloves, minced
½ cup green lentils
1 ¼ cups water
¼ cup cilantro stems
1 serrano (or jalapeno) finely diced
salt
In a large saute pan add the bacon and cook on medium heat until crisp. Add the onions, stirring occasionally until just golden, about 5-7 minutes. Stir in the cumin, coriander, chili powder, and cayenne. Cook for one minute, until fragrant.
Add the red pepper and cook until just soft, about two minutes. Add the cubed potato along with ¼ cup water. Scrape up any browned bits from the bottom of the pan.
Stir in the shallot and garlic, saute until fragrant, just about a minute. Add the greens lentils and 1 cup of water. Give the whole pot a nice stir then cover and simmer for about 20 minutes, or until the lentils are tender. Remove the lid and cook until the liquid has mostly evaporated. Season with salt. The reason why we salt at the end is to ensure the lentils will be tender and soft and not rubbery which can happen if you salt before they cook.
Finally add the cilantro stems and Serrano (you can use more or less depending on how spicy you like it).
Put that aside to cool slightly.
Once the mixture has cooled and the dough has rested, roll out the dough to ¼ inch thickness. Using a yogurt lid or large cup (depending on what size you want your empanadas). You can carefully roll out the scraps so that you get 6 large empanadas from one batch of dough.
Place ¼ cup of the filling on the left side of the dough round. With a pastry brush (or your finger) put some water around the edge to act as the glue. Fold the right side over the filling to match edges with the other side. Press and seal with your hands then use the tongs of a fork to ensure there is a tight seal. Using a sharp knife cut a slit on the top so the steam has a place to escape.
Place all of the empanadas back on a parchment lined baking sheet and chill in the fridge.
Pre-heat the oven to 400* and bake for about 20-30 minutes or until deep golden. For an a nice golden gloss, brush with a lightly beaten egg just before baking.
Cool slightly before serving.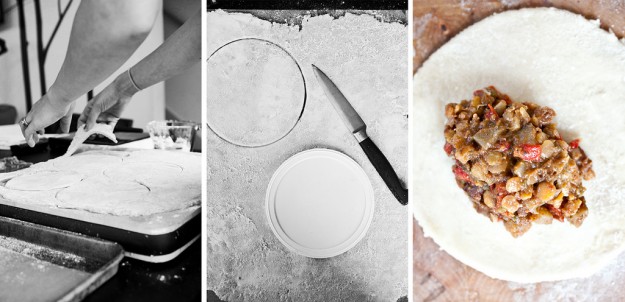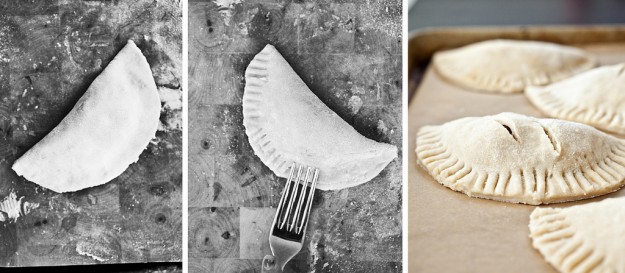 Cilantro Cream
¼ cup cilantro
¼ cup sour cream
2 tablespoons olive oil
1 teaspoon Cholula*
1 garlic clove
salt
Place all ingredients in a blender or food processor and blend. Taste and adjust seasonings.
Cover and chill until ready to serve.
..
In case you've never had Cholula my brother-in-law will tell you all about it as he is, in our family, the King of spicy cooking.
Hey! Your kitchen may be missing something
Look around for your staples. They are the items that exist not only in their half used state but also have an unopened twin in your cupboard or pantry. The items you never feel guilty buying regardless of the quantity at home. I have four in my kitchen. In no particular order they are: Kosher salt, olive oil, white wine, and Cholula Hot Sauce. I'll bet you are missing one. Let me tell you your kitchen, and subsequently your meals, are worse off for it.
The Good
Cholula is primarily water, peppers, salt and vinegar mixed into a bottle underneath an iconic wooden lid. This Flavorful Fire provides enough heat to make one notice but not run for the hills and enough flavor to bolster any chef's offering without stealing the show. Pour some on and I'm sure you'll be reaching for more before your next bite. If it once walked the earth, I wouldn't attempt to plate a protein without a visit from every single one of my kitchen staples  but Cholula is the only staple that will follow me to the table every time. Sorry salt but it is possible to get too much. Not so with Cholula.
I've poured it on potatoes, garnished my greens (Seriously. Try it mixed with salad dressing), and spiced up soups. One of my favorite applications is a layer of Cholula over pizza which acts as an adherent for parmesan cheese. The possibilities end where your creativity does. Stop reading now and go buy some.
The Bad
My one hang up with Cholula probably has more to do with marketing than the product itself. Cholula is available in four flavors.  Original, Chipotle, Chili Garlic, and Chili Lime. I understand and fully endorse three of them. The Chipotle goes great on pork and the Chili Garlic is pretty interchangeable with the Original flavor but doesn't seem as widely available in the stores.
The Chili Lime confuses me a bit. People seem pretty excited by it and I eagerly leapt at the opportunity to try it the first time it crossed paths with my shopping cart. I can remember the moment I first saw it. I'm that kind of person. Ask about my first Cholula experience and I can still describe it to you but that's probably for another blog. Anyway, I wasn't impressed but rather, to reiterate, confused. There is no actual lime juice listed in the ingredients. They are your normal hot sauce ingredients with citric acid and "natural flavor" which could consist of anything. Where I come from limes are available year round which makes the solution an easy one. Buy two bottles of Original Cholula and a couple limes. No need to stock two separate flavors of Cholula when a better flavor is easily attainable. The Chili Garlic flavor actually contains garlic and has a good flavor but using my logic it would be perfectly acceptable to stock three bottles of Original Cholula and add garlic to the shopping list just below limes. Both of these belong in a well-stocked kitchen anyway.
The Recipes
Maybe a bit of a misnomer but I have your attention so sit still for just a few more lines. Cholula is a staple and I use it any opportunity life affords. Just as I would be hard pressed to offer up recipes for salt, olive oil, or wine I don't have a specific Cholula recipe but maybe I can give you a bit of direction. One of my favorite lunches stars leftover meat. Anything will do but I recommend pork, chicken, or shrimp.
Heat some olive oil in a skillet and add your meat. I pour in a bit of wine at this point and put the lid on to infuse some wine flavor and tender everything up. Feel free to add any aromatics you may have around. Onions, garlics, leeks, mushrooms. Green stuff will work too as long as it is hearty enough to take some heat like broccoli, spinach, or cabbage. Give everything a good dousing of Cholula and stir it about. Once the liquid has left the show and things are heating up transfer the goodness to the vessel of your choice and set sail for the isle of satisfaction! I usually use a hoagie roll or a tortilla but you could go with Naan or pitas if you have them handy. Hamburger buns and even sandwich bread will work as well but will probably require a trip through the toaster to handle this fiery feast.
Make sure you have your bottle of Cholula and a drink at the table when you sit down. I've been trying to pair a beer with Cholula but it is difficult finding something to stand up to such flavorful dishes so I usually just go with ice water or a soda. Wow. Lunch.
Buen Provecho!
I hope you enjoy Cholula as much as I do and remember: don't be afraid to try it in creative new ways. You may be just one grocery list away from your next great kitchen staple.
I would love to hear your recommendations as I am always looking for new ways to flame up my food.  And if you cross paths with a beer worthy of the title "Companera de Cholula" please let me know. Make sure to check www.cholula.com for actual recipes. I can personally endorse the Tres Agaves Coctel de Camarones with or without shrimp.
Thanks Garrett!
*Full disclosure. Cholula sent us a sample of the product – which they didn't have to as we are already well stocked with it.

We were not paid to write the post and the opinions are ours. I, personally, can only speak on the original Cholula as I have not tried the others.