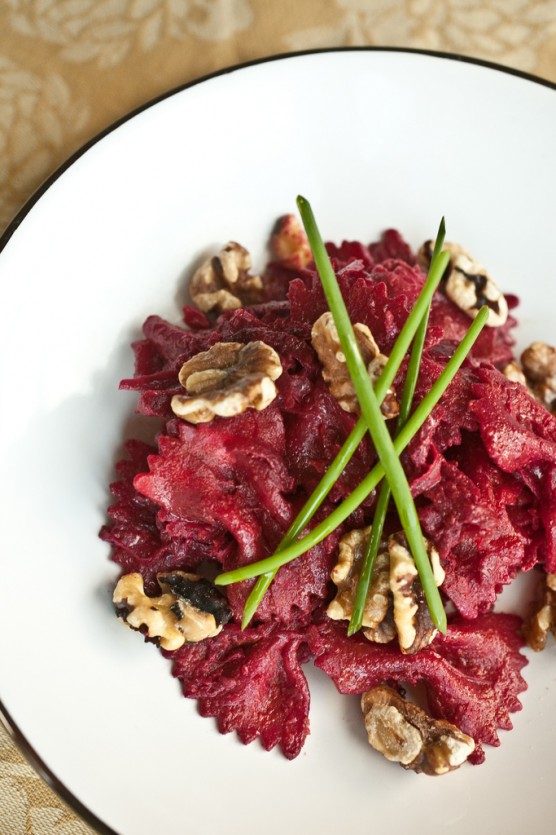 Growing up Gabe was tagged as "the picky eater," often refusing to try new things. If it even resembled a tomato he wouldn't go near it – unless it was salsa. For some reason salsa tomatoes are acceptable.
Our first fight as a young, dating couple revolved around his eating habits. I approached him feeling self-righteous and feisty. I looked down at him from my high horse and told him I thought his eating habits were "gross".
As you can imagine my sermon wasn't very well received. We ate separately that night.
I learned two valuable lessons from that fight. 1. There is a right and a wrong way to discuss a point of contention and 2. Gabe is the bigger person. He was the one that sought me out to apologize. I felt horribly for hurting him and I've since learned to appreciate our different eating habits and our differences in general- most days.
He didn't change his ways of eating that night. Not surprisingly. Overtime his appetite has broadened and he will never shy away from trying something new. I no longer call him picky, I think quirky is a better word for it. His list of "dislikes" is still rather long but he never complains, just subtly slides the unmentionables to the side of his plate.
Gabe blames his "quirks" on his heightened taste buds. It's not his fault he has hyper-active tasters that cause him to grimace at the presence of too much vinegar or wince in sheer agony if his sandwich has come in contact with mayonnaise. He felt vindicated with this theory after I showed him a recent article about "super tasters" – people who have more sensitive taste buds.
He might be right. Gabe can out taste me any day. I try to test his skills by sneaking in a few subtle spices into my loaf cakes. He notices. He'll give me a curious look upon tasting the soft dusting of nutmeg over our sauteed greens. His morning cup of coffee is subject to the scrutiny of his "heightened taste buds".
"Ash, tell me what you taste?" He asks as he shoves a cup of coffee under my nose. By his tone I can tell he assumes I'll know the answer.
"Um. Cherry?" I ask, sheepishly.
"Strawberry jam!" He exclaims with complete certainty.
I taste again. Sure enough. Strawberry jam. He's right again. Damn him and his taste buds.
Oh how I love his quirks. I do not, however, cater to them. Which is why I did not hesitate to make this intriguing pasta with beets knowing that, according to Gabe, beets "taste like dirt".
I guess I figure the more he tastes something the more likely it is that he'll eventually love it. He still pulls the tomatoes out of his burgers even after all the late August Heirloom varieties I've nearly shoved down his throat.
The recipes for pasta with beets and Chocolate and Pear cake were sent to me by a dear reader. Tristan and his mom, Janice are my, self-proclaimed, "biggest fans in Ohio".
Tristan and his friends love to cook. He'll often use recipes from Not Without Salt to share with his friends. I'm flattered. Truly.
Janice sent me an email with these recipes that Tristan thought I might enjoy. He was right. Thank you Tristan and Janice. While Gabe continues to not appreciate the wondrous beet he did manage to eat a respectable amount while still saving plenty of room for Chocolate and Pear cake.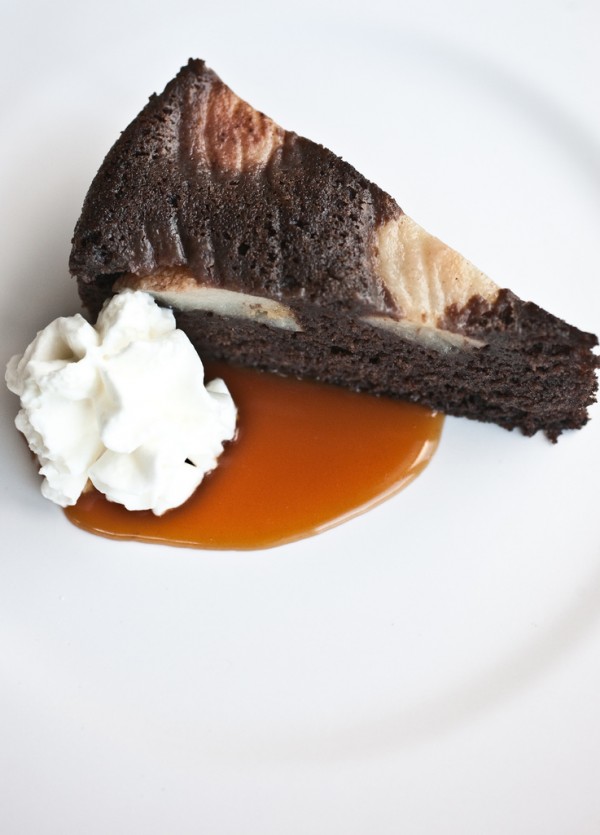 The recipes appear exactly how they were sent to me.
Pasta with Beets, Walnuts and Goat Cheese
1 pound of whole wheat spaghetti.  We like bow ties.
2 T olive oil
1 large red onion, sliced
2 cloves of garlic
2 lbs of beets, peeled and grated
12 oz goats cheese, crumbled
3 T fresh lemon or lime juice
Sea salt… we use Himalayan Salt, which is course brown… very healthy.
Freshly ground black pepper.
3/4  cup of toasted walnuts.
Cook pasta and put in to a large bowl save 1 c. of the pasta water.
In large pan cook garlic and onion until soft, about 5 min.  Add beets and cook 10 minutes.
Add cooking liquid, and goat cheese; cook stirring until cheese softens into sauce.
Add lemon juice, then salt and pepper to taste.
Add to pasta and toss and serve.  Top each serving with toasted walnuts.  This is wonderful served with a salad and home made garlic toast with goat cheese on top.
Chocolate Pear Cake
5 small pears
3 cups water
1 cinnamon stick, crushed.
3/4 c. sugar
1/4 cup buttermilk
1/4 cup cocoa powder
1 cup thickened cream
1 cup sugar
1 tsp Vanilla extract
1 stick of unsalted butter, at room temperature
2 eggs
1 cup self-raising flour
(8 oz) semi sweet, dark chocolate, chopped
1 Grease 8 or 9 inch pan (we use a spring pan for easy removal.)
2 Peel pears. Using a small knife, remove seeds and core from pear base.
3 Place sugar, water, vanilla and cinnamon in a large saucepan. Stir over a low heat until sugar is dissolved. Bring to boil. Add whole pears. Simmer, covered, for about 10 minutes, or until pears are tender. Remove pears. Refrigerate until cold. Discard syrup. Using paper towels, dry pears thoroughly.
4 Beat butter and sugar in small bowl of an electric mixer until smooth. Beat in eggs, one at a time. Stir in buttermilk and combined sifted flour and cocoa in two batches. Spoon into prepared pan. Smooth over top. Press cold pears into cake mixture.
5 Cook in a moderate oven (350 degrees) for about 1 hour, or until cooked when tested. Stand cake in pan for 10 minutes. Carefully remove from pan and cool.
6 To make chocolate sauce, stir chocolate and cream in a small saucepan over a low heat until smooth.  ( For added zip 1/4 to 1/2 tsp of orange flavored liquor)
7 Serve cake cut into wedges with warm chocolate sauce.
*I served this cake with caramel sauce as I happened to have some lying around.
*We made these recipes during one of our weekly date nights. Read the first in the series of posts that explains what "Dating My Husband" is all about.