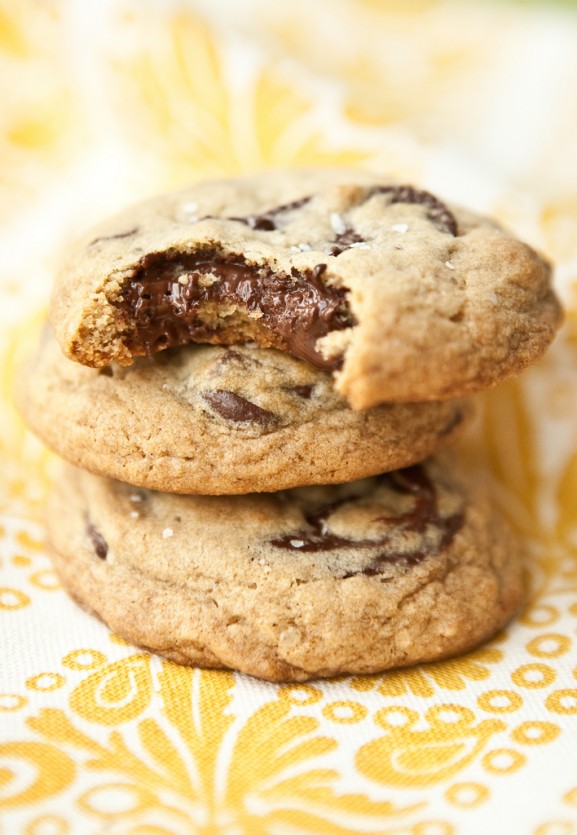 Alone in the fridge there sat a roll of freshly made chocolate chip cookie dough. It meant to join us for the weekend as the husband and I were enjoying a quiet weekend away, otherwise known as our babymoon. For those of you unfamiliar with this odd term let me explain – it's a last chance getaway before the life-altering, sleep depriving, miracle of a baby arrives. We still have several weeks before baby appears (early September) but this was our last unbooked weekend of the Summer – my husband is a wedding photographer which makes this season very busy.
My dear friend and cooking class partner, Julie, insisted on us taking a babymoon. We needed very little convincing. Husband and I spent the last few days steps away from the ocean, surrounded by books, food and the ability to do whatever we wanted, when we wanted. For me this meant plenty of long naps, a few brief walks – or shall I say "waddles" – and quiet moments just staring at the ocean.
We read, we talked, we watched movies and we enjoyed the silence.
Now we are home. Back to our reality that is void of silence, filled with the happy cheers of two very energetic young boys. And back to that cookie dough that is all well rested as I am.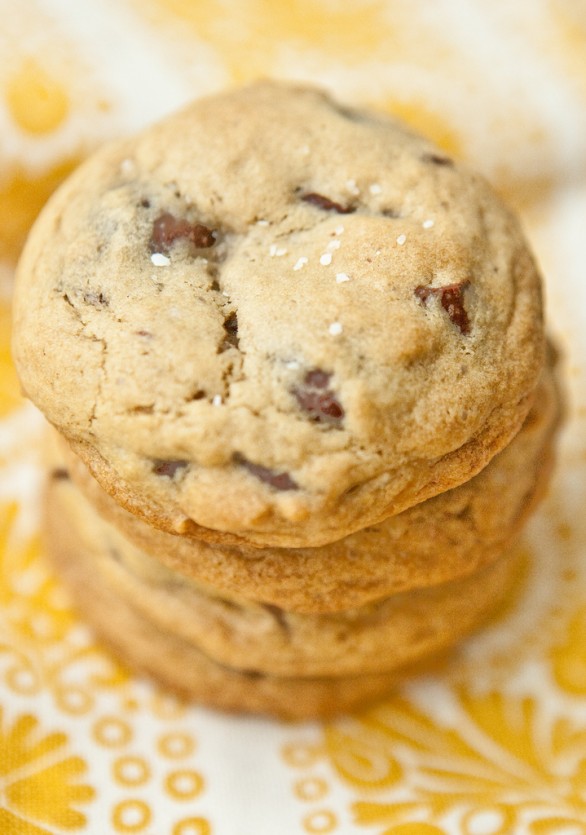 These cookies were baked just after the dough was made – they're delicious. But if you let the dough rest a bit the flavors with become more pronounced- you will get a cookie with more toffee flavors and deep, rich color. They also don't *puff* quite as much once they've rested.  I used chocolate chips for this because I didn't have couverture on hand and needed a cookie…. NOW.
I have been meaning to re-post my chocolate chip cookies for some time. First of all because the pictures are horrible and secondly because I left out a few key tricks in the mixing directions. I did not do this intentionally – I would never do that to you but since that post I have made thousands more cookies and have learned a few things a long the way.
Dana from Dana Treat recently took a baking class from me where we made my favorite chocolate chip cookies. She went ahead and did my job for me by writing an incredible post honoring these chocolate-laden morsels. Her post on my cookies was so perfectly written and her cookies are flawless, so I'm just going to direct you to her also.
Thanks Dana for such a lovely post!
THE Chocolate Chip Cookie
2 sticks butter (8 oz)
1/4 cup white sugar (2 oz )
1/4 cup Turbinado sugar (2 oz )
1 3/4 cup light brown sugar, packed (12 oz )
2  eggs
2 tsp vanilla (1/4 oz)
3 1/2 cup All Purpose flour (1 lb. )
1 1/2 tsp Baking soda
3/4 tsp salt
1 lb. chocolate (use the best quality chocolate you can afford. With a serrated knife cut chocolate chunks roughly 1/2 inch)
1/2 teaspoon good quality salt, for sprinkling on top before baking
Cream the butter and the sugars until very light and fluffy, about 5-7 minutes on medium high. Scrape down the side of the bowl. Continue mixing while adding the eggs one at time. Make sure each egg is incorporated before adding the next. Add the vanilla. Scrape down the bowl with a spatula. Combine the flour, soda and salt in another bowl. With a whisk to combine. With the machine on low, slowly add the flour. Mix until just combined, taking care not to over mix. With a spatula fold in the chocolate.
If you so choose, and I do recommend that you do, sprinkle a very fine dusting of good quality sea salt. Fleur de Sel or Murray River Pink Salt are my recommendations.
Bake at 360* for 12 minutes. They should be lightly golden on the outside but still look gooey on the inside.