It happened about a month ago. It was a typical day – casually following Twitter – laughing at the wittiness of those whom I follow and clicking through the links that caught my attention.
As it was quite some time ago I don't remember the exact words that @bittman used to lure me in but it had to do with nachos.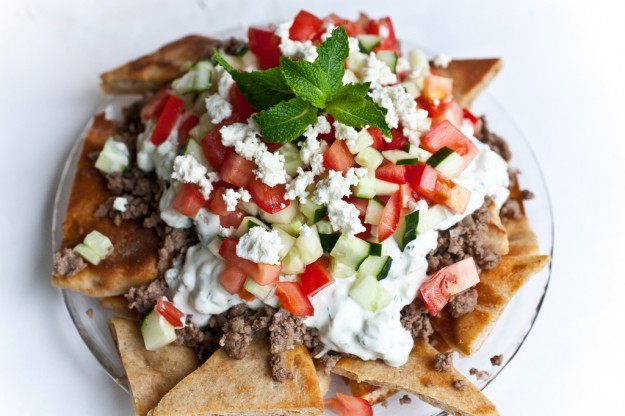 The nachos that Mark Bittman was referring to resembled nothing like the grease-laden chips covered in orange "cheese-flavored" glop that my husband likes to consume while we're at Safeco watching the Mariners. No these were vastly different and were immediately on the menu for that night's dinner.
Bittman's Greek Nachos begin with a bed of oven crisped pitas. On top of that he uses a cumin and onion seasoned ground lamb – I used beef because it's what I had. Drizzled over the top of the pitas and ground meat is a perfectly salty, creamy and tangy sauce of yogurt, feta, lemon juice/zest and fresh mint. (If your mouth isn't watering yet you might want to get your salivary glands examined).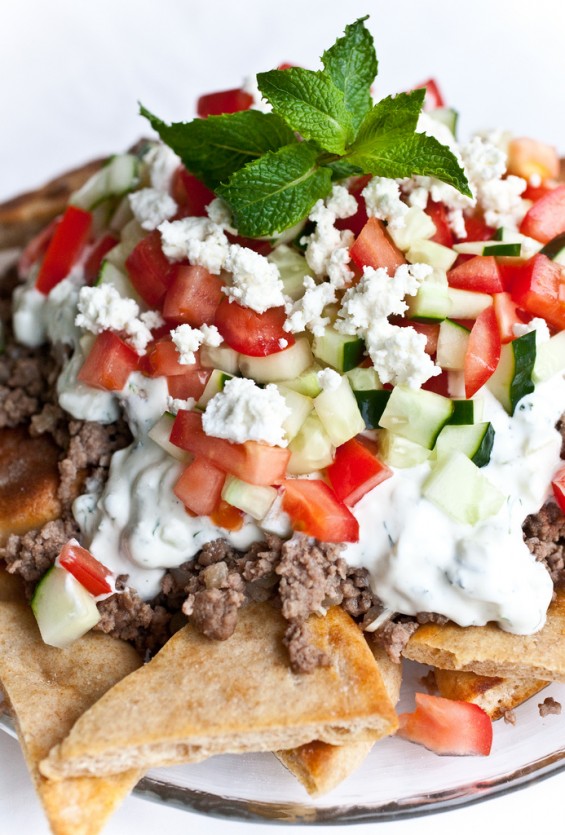 But wait. There's more.
Finish the nachos with chopped tomatos, cucumbers and olives. And if you are like me sprinkle more feta on top and a bit more fresh mint.
This dinner is made extra tasty with the addition of this fruit salad on the side.
Of course, being the crazy lady that I am, store bought pitas just would not do. So I made my own and I must say that it was incredibly satisfying watching them balloon in the oven. It took a few rounds before I figured out the "trick" to the 'puff". Which really isn't a trick at all – just make sure that when rolling them out you leave them thick enough so that there is room for them to expand. A 1/4-inch thick should do the trick. For this recipe however, you don't need the typical pocket in the pita – but for the leftover sandwiches you make with the leftover nacho ingredients – you will.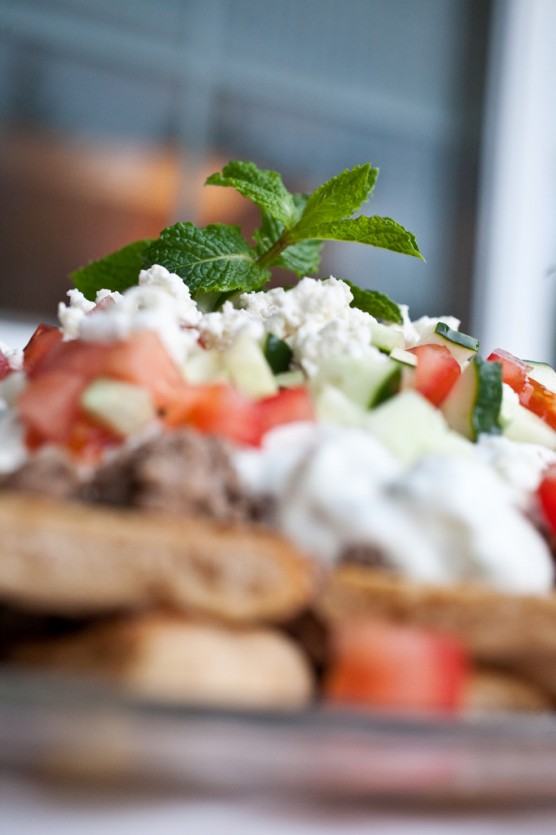 Whole Wheat Pitas
This is an incredible Pita tutorial from The Fresh Loaf (much more detailed than mine)
2 cups flour
1 cup whole wheat flour
1 1/2 teaspoons salt
1 Tbl honey
1 packet yeast (or 2 1/2 tsp.)
1 1/4 to 1 1/2 cups water, roughly at room temperature
2 tablespoons olive oil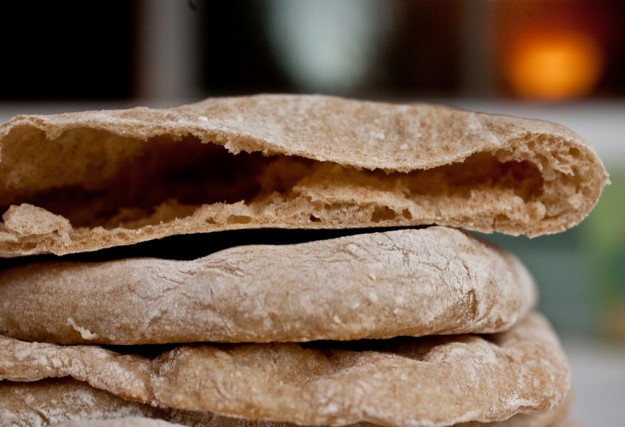 Method
Combine the yeast, flour, salt and honey. Stir in the water and olive oil to form a ball. If the mixture is not coming together add a bit more flour or water so that a cohesive mass is made. Knead the dough, or mix with a dough hook on low, for ten minutes.
Place the dough in a lightly oiled bowl and cover with a cloth or plastic wrap. Let this rest and rise until double in size. Appoximately 90 minutes.
After the dough has double punch down to release some gas (heehee) then divide into 8 equal portions. Roll each potion into a ball then cover and let rest for 20 minutes.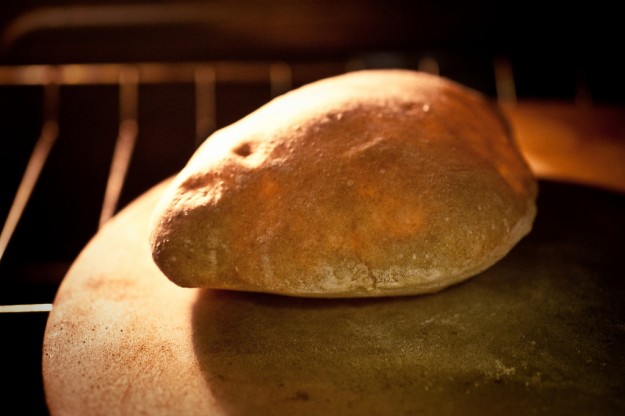 Preheat the oven to 400*. If you have a baking stone (recommended) place that in the oven at this point as well. If you don't have a stone use the underside of a cookie sheet placed in the middle of your oven.
On a floured surface roll a portion of the dough into a circle about 1/4-inch thick (this thickness worked best for me).
Quickly open the oven and place the rolled dough on your stone or cookie sheet – if there is room bake two at a time. Watch closely as it is quite exciting – if you are into that kind of thing – and it happens quickly. They should be done after 3 minutes. You can continue to bake for a couple more minutes if you want them crispier. If you are going to be using these pitas for the Greek nachos – which you really should – then once the pitas cool you are going to cut them into wedges drizzle with salt and olive oil and bake again just to crisp them up a bit (i.e. pita chips).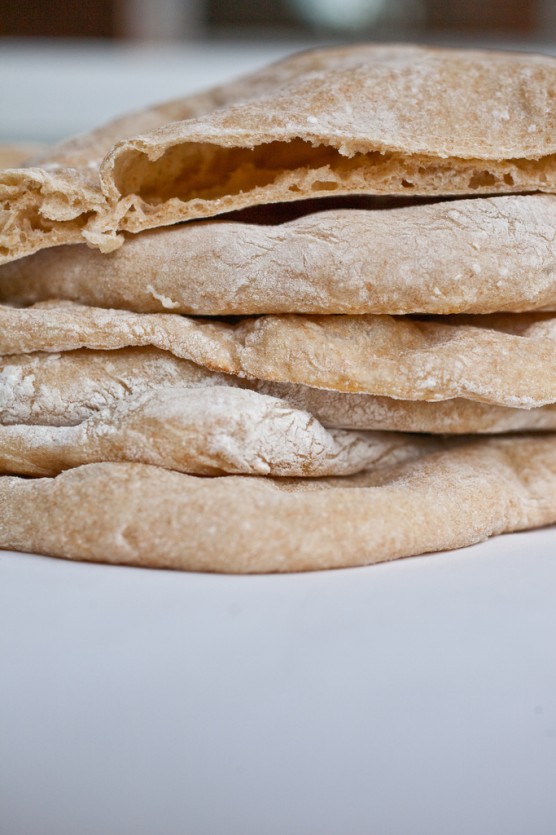 If you have enough will power pitas can keep for awhile or they freeze really well.
Of course you could just run to the store and buy a pack of pitas but really these are super easy and quick to make and the taste will leaving you screaming "OPA!"