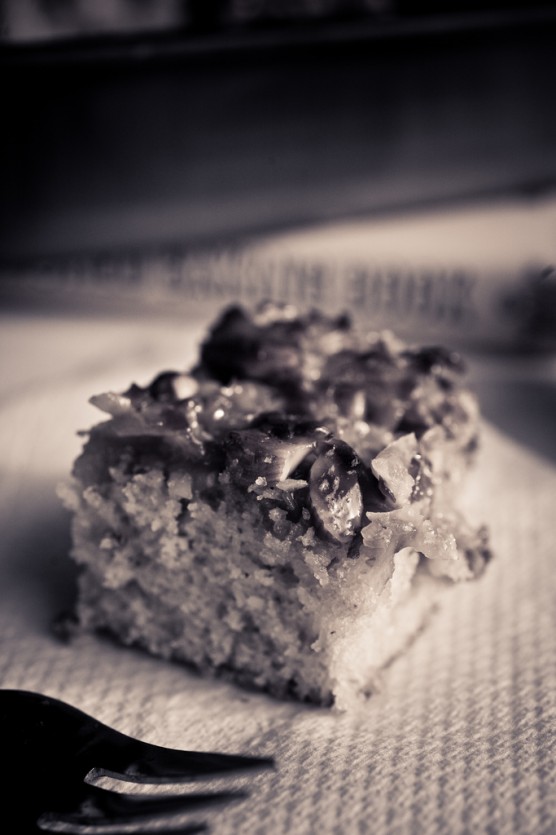 Quite often I break one of the cardinal rules of parenting; "Never wake a sleeping baby."
After the often drawn out and complicated process of actually getting them to sleep – waking them would be so very wrong. Why would anyone do this?!
Here is why I do it.
Our youngest child came out of the womb as active as a toddler who spent an entire day consuming Pixy Stix. This might have something to do with the fact that he was considerably late to arrive – okay only 5 days overdue but to me it felt like years.
At six weeks he could support all of his weight with his legs. At four months he was scooting. And now at 13 months he is scaling coffee tables, chairs, couches, etc. and then proceeds to dive-bomb off – certain that someone will catch him – and we usually do. His cuddly baby stage lasted all of a week before he was ready to participate in the same activities as his older brother.
While the verdict still is out on if he is our last or if he will be the middle child (with me being the on the defense for the third child) I have clung on to each stage and savored every rare moment I have to just hold him while he still remains somewhat baby-like.
The only time I can do this is while he is sleeping as every other moment of the day he is off and running – trying as he might to completely cover his head with goose eggs.
I selfishly pluck him from his warm nest of blankets just so I can have a chance to feel his skin as soft as a fresh apricot. His chubby marshmallow-like arms and legs envelop me as I gently tuck his white hair covered head into my neck.
I listen to him breath.
In. Out.
I preserve the moment.
And thank God for another day with him.
Then reluctantly return him to his warm bed so he can continue to sleep peacefully and grow one day further away from being my little baby.
IF he is my last baby (don't get to excited dear husband – I said IF) then the next time I will have babies in my life will be my grandchildren.
Now I know I am quite young to be imagining life with grand-kids as I am still adjusting and figuring life out with my own children. But I couldn't help but think about being a grandma who is always pulling something sweet and irresistible out of the oven as I was making this classically flavored cake.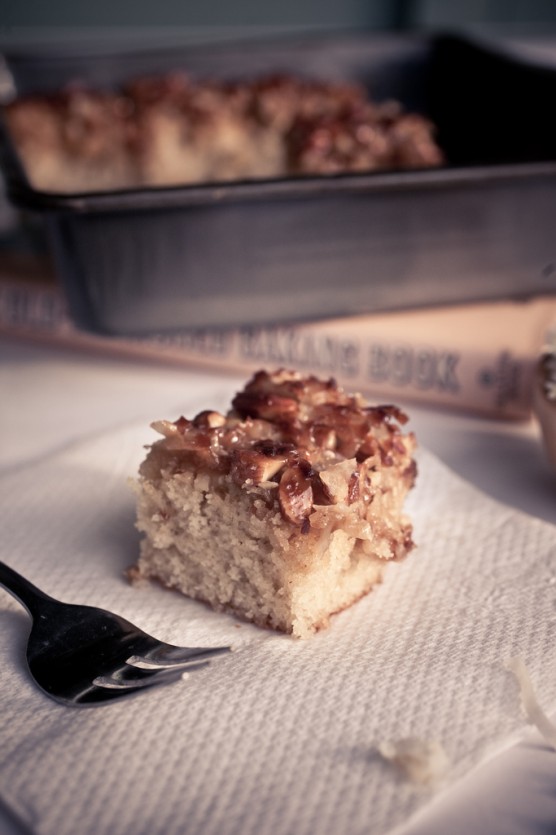 The smell of my house will be intoxicating – as sweet as cookies and as satisfying as a roast that has been stewing all day in its own juices and those of the surrounding bed of vegetables on which it rests.
Upon leaving one will never be hungry but rather perfectly contented – with an extra serving of leftover dessert just in case the car ride home demands one more nibble of grandma's Golden Crunch Cake.
I found the recipe for this visions-of-the-future inducing cake in Jim Fobel's Old-Fashioned Baking Book. His own grandma used to make it for him quite often. In fact on one occasion he and his cousins managed to eat the entire cake sending grandma back into the kitchen to whip up another one.
The ingredients in this cake are very common in the baker's pantry and it whips up in no time – making it the perfect sweet to serve for the unexpected visits from the grandchildren.
The flavor is as comforting as a midnight snuggle from a baby or the smell of grandma's house. The toffee and nut top layer give way to a subtle white cake. A perfectly rich and sweet afternoon snack that would make the grandkids long for their next visit grandma's house.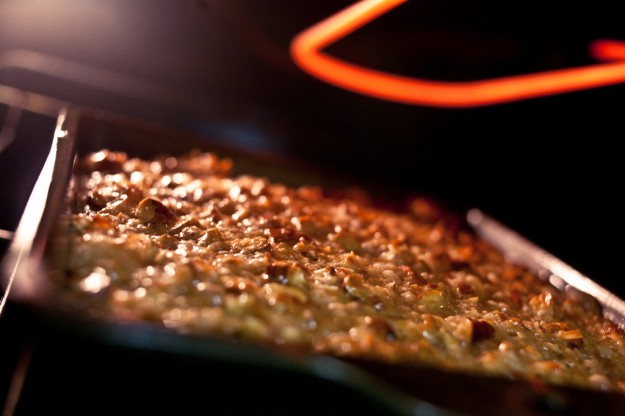 Golden Crunch Cake
adapted from Jim Fobel's Old-Fashioned Baking Book
Makes one 8-inch Square Cake
Ingredients
1 cup all-purpose flour
1 tsp. baking powder
1/4 tsp. salt
2 large eggs
3/4 cup sugar
1 tsp. vanilla extract
1/2 cup milk
2 tbl. butter, melted
Topping
4 tbl. butter
1/4 cup heavy cream
1/2 cup packed brown sugar
1/2 cup shredded sweetened coconut
1/2 cup chopped nuts (I used almonds)
1/4 tsp. salt
Preparing
Pre-heat oven to 350* Grease an 8-inch square pan.
Whisk the flour, baking powder and salt in a small bowl.
In a medium bowl beat the eggs (with a electric or stand mixer) until they are foamy and slightly thickened. This should take about one minute. Gradually add the sugar while continuing to beat. Add the vanilla. Add the dry ingredients and stir until just moistened. Add the milk and melted butter and stir until smooth.
Pour the batter into the pan and bake about 25 minutes or until the top springs back when you touch it lightly. Remove from the oven then set to broil while you prepare the topping.
Combine the butter, cream and brown sugar in a saucepan. On medium heat stir until the butter is melted and all the ingredients are well blended. Remove from the heat and stir in the nuts and coconut. Spoon the topping over the hot cake and broil until bubbly and dark golden brown. This should take about 2 minutes. Don't walk away from the cake while broiling as it goes from delicious to disaster in a matter of seconds.
Cool in the pan. Serve warm or at room temperature. A dollop of whipped cream never hurt anyone – just a thought.
Until I have grandkids of my very own I plan on making and serving this cake to my two (+ ? ) little ones several times throughout their lives. One can never have enough practice (or enough of this delightful cake).